Sometimes the images and factoids I encounter while doing simple research on a vintage label or garment are so exquisite/fascinating/eyeopening they threaten to burst my head, making a blog post not just timely but a necessary release valve for fashion history-induced speaking in tongues. The single, mind-blowing culprit in this instance is a newspaper ad, dated Friday, September 20, 1929. In a classic example of saving the best for last, I'm going to do just that and instead tell the tale of what sent me hunting in its direction.
Quite simply, then: For some reason, the only items I've had till now from Rochester, NY's grande dame of a department store, Sibley Lindsay Curr Co., have been hats, 6 of them, all outstandingly lovely and a healthy cut above in quality. Then, this year I happened upon a mid-1940s Sibley's "Store for Men" necktie and began wondering about the history of menswear retailing at Sibley's—and more to the point, exactly when it opened its "Store for Men".
Here's a photo of the hats (an 1880s bonnet, a late teens straw bicorne, and a felt tilt hat from the late 30s or early 40s):
And here's the tie, a 4.5" wide rayon satin number with what appears to be a popcorn print on it (the jazzy jacquard pattern of the ground is popcorn-like too!):

In past research on the hats, I learned that Sibley's was Rochester's oldest and largest department store, founded in 1868 and locally owned until the late 1950s, and known for its elegance and innovative marketing. The original building was devastated by fire in 1904  (along with a sizeable chunk of downtown Rochester); here, in an image from the Monroe County Public Library's public database, is the original, 12 story building collapsing in that horrible inferno: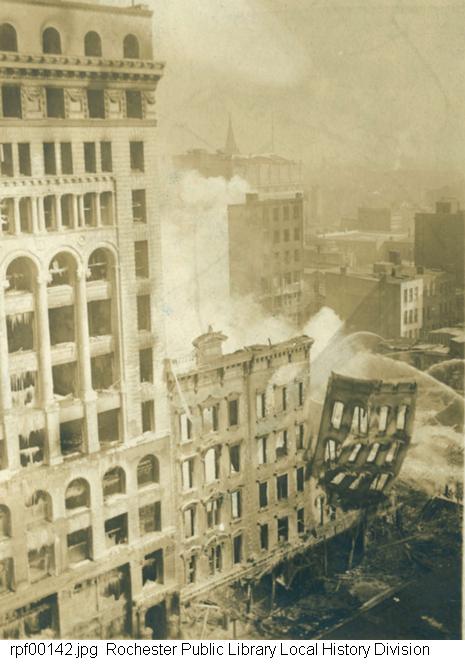 (The Monroe County image database is well worth browsing; there are 15 full pages of photos relating to Sibley's, including several which showcase the store's flair for windowdressing.
An even grander store replaced the fire-demolished one in 1906; here it is, in 1911: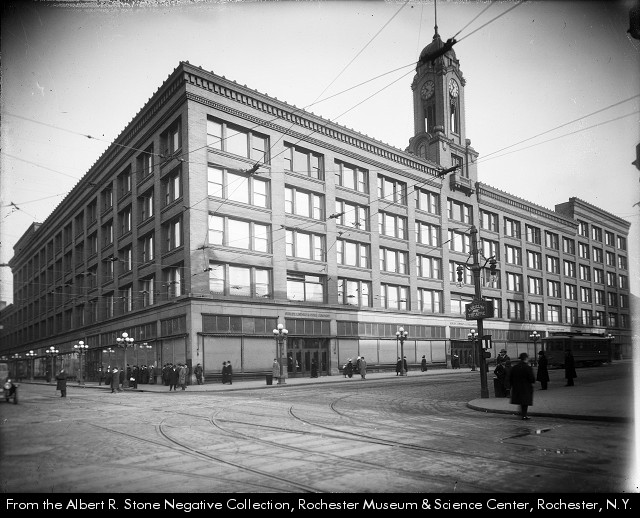 A retail temple that gigantic was bound to be incredible inside. Of course, in the early days Sibley's looked nothing like a contemporary department store, where almost all inventory (except, maybe, for jewelry and shoes) is available for self-service handling by the customer. This stereograph (from the Rochester Public Library's collection) shows the interior of the store in 1870, with nothing openly displayed except the dresses on the two mannequins:
Even in this much more modern-looking 1930s photo, inventory is still confined to glass cases laid out seemingly to infinity on the cavernous sales floor: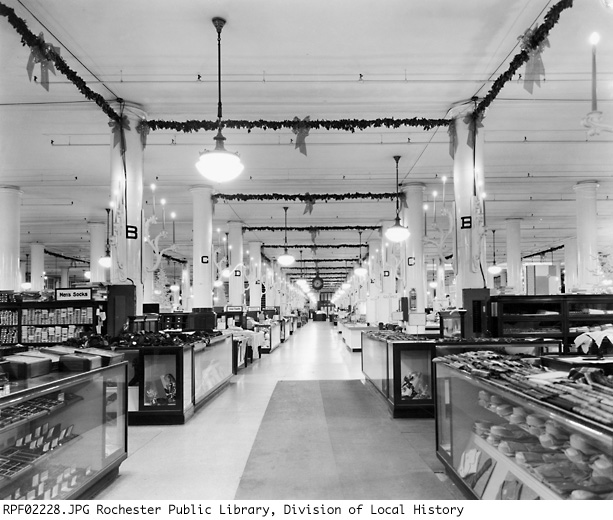 The foreground of the picture appears to contain items for men: Boxed wallets, belt buckles, and/or jewelry sets (I think) in the case on the left, shirts (and ties) on the right. And a little behind the jewelry case a sign over some stacked items on a shelf reads "Men's Socks".
But since a cluster of display cases and a "Store for Men" are two very different things, I hit the newspaper databases in search of the earliest references I could find to the latter. As I pored over decades of Sibley's "SALE" ads, I got the sense of a 19th century dry goods store—initally catering more to women and children than men–steadily evolving into a 20th century department store at which the entire family's needs were equally met.
I found an 1876 reference to a men's "neckwear counter", and an 1891 ad which devoted a paragraph to the quality of their men's "furnishings" ("scarves, collars and the like"). In the Edwardian years, shirts, suspenders, hose, and underwear were offered (followed by custom-tailored suits), and shoes, coats and sweaters came along by the mid-1920s.
It may be that some of the items to appear in the early 20th century ads had been sold by the store in previous decades as well. My hunch, though, is that until 1905 or thereabouts, Rochester men did their serious shopping at the area's "clothiers" and "haberdashers", while Sibley's offered chiefly items that could be chosen for them by a female shopping on their behalf.
At the turn of the century, a Rochester gent's choices of clothier included the Union Clothing Co., the Weil-Rochester clothing Co., and Garson's (slogan: "Clothiers for all Mankind"). For haberdasher and/or hatter, he could go to Wilcox & Leiter, Henry J. Klee, or O'Toole's. And there were also two other department stores which sold men's goods: The Rochester branch of The Edward's Store, and McCurdy & Norwell, Sibley's arch-rival throughout the twentieth century.
In other words…there was a lot of menswear competition for Sibley's to outshine. Towards the end of the 1920s, they more than rose to the occasion: On Friday, September 20, 1929, they opened the Store for Men.
As for the decor, that was pure, glorious 1920s man-cave. As an article announcing the grand opening describes, it was "furnished and decorated like a men's club more than a sales department", with "comfortable chairs and divans", tables strewn with the latest magazines, plentiful ashtrays, and even "masculine motifs" such as suits of armor and mounted big game heads from Africa.
Alas, the sketch above is only… a sketch. To get a sense of how majestic, in scale and vision, the Store for Men must have been, check out this recent photo (courtesy of the Rochester Subway site), showing the site of the Men's Lounge in the vacant Sibley's building. Nice fireplace, no? And I'll bet the echo under those lofty ceilings was a very impressive boom…
Tags: department stores, mancave, menswear, millinery, neckties, sibley lindsay curr